Mini Audio Amp Kit by W5USJ
---
Kits and Parts are gone, task completed. Thanks to all.
Mini Audio Amp Top and Bottom Sides
Shown with Quarter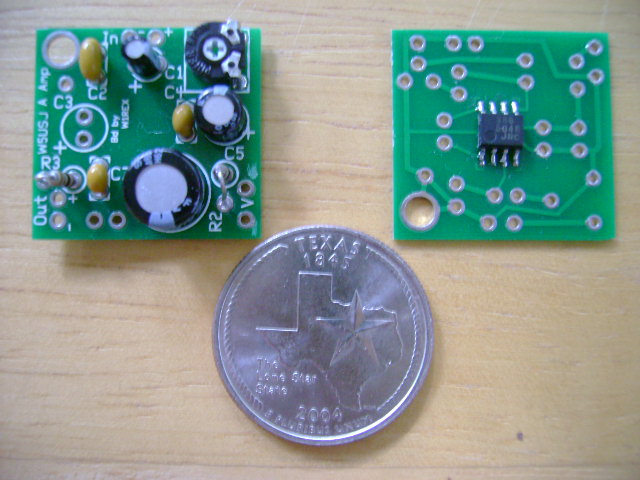 ---

View/Download Assembly Drawing — Assembly Drawing PDF

---
Mini Audio Amp Features and Functions
Compact Mini Audio Amp for Fixed Preset Applications
• Size is about 2.5cm (1 in.)square by 10mm (3/8 in.) thick
• 2-3/4 inch connection wires included or use your own as needed
• Easily fits into many enclosures — or use "side saddle"
• Power output up to 500 mW depending on supply voltage and load impedance
• Supply voltage 5 to 12 V DC
• Boosts low audio levels from headphones or Piezo buzzers
• Drives a small 8-Ohm speaker with good volume
• 20dB additional gain with optional 10uF gain capacitor (Mouser #647-USR1E100MDD) (RS #272-1025)
• Can be used as a preset amplifier or replace preset trimmer with panel volume control
---
Mini Audio Amp Suggested Wiring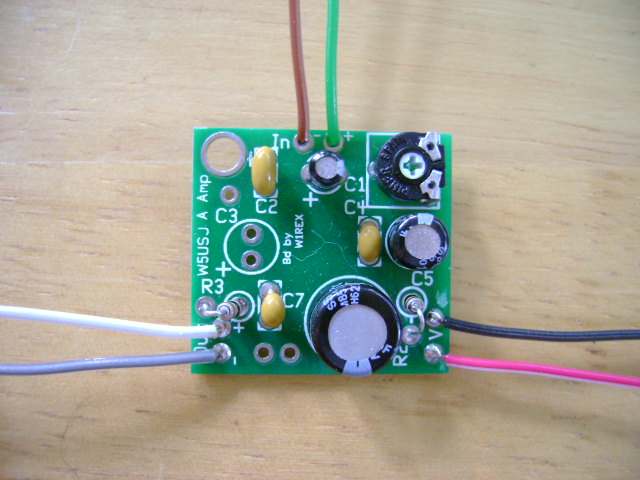 Red = supply voltage, Green = audio input, White = audio output, Black, Brown and Gray are ground wires.

Testing
Using clip leads, connect the audio input to an audio source.
Connect the audio output to earphones or a small speaker
Connect power to the supply leads, a 9V battery can be used
Adjust R1 for the desired output level.

---
Mini Audio Amp Schematic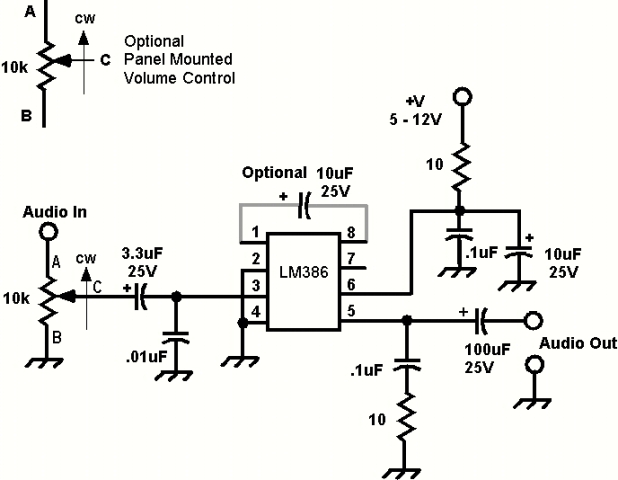 ---
© 2010 Chuck Carpenter, W5USJ